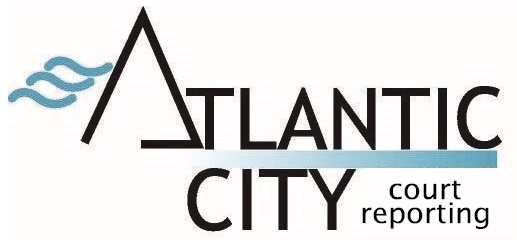 866-497-2401
609-345-8448
COVID-19 INFORMATION
First, we hope you and your loved ones are all currently doing well and will remain so. The health and safety of our clients, court reporters and staff is our number one priority at Atlantic City Court Reporting. Due to the COVID-19 virus, we have taken all necessary precautions as well as appropriate and aggressive action to keep the members of our team safe. Therefore, our staff is working remotely, and we have provided all the needed equipment for them to perform their jobs from home. They are able to service our clients with complete access to scheduling/customer service, transcript production, billing and accounts receivable.
VIRTUAL OFFICE / REMOTE DEPOSITIONS AVAILABLE



Our main number 609-345-8448
is forwarded to remote staff.

We can be reached by e-mail at info@accourtreporting.com.
---
REMOTE DEPOSITIONS VIA WEBEX or ZOOM

(VTestify, MS Teams, or MegaMeeting available upon request)
Atlantic City Court Reporting is providing its own remote deposition services via the Webex, Zoom, VTestify, MS Teams, or MegaMeeting platforms. These are web-based video conferencing tools with a local, desktop client and a mobile app that allows clients to meet online, with or without video. All sessions can be recorded, while up to 16 participants can share one screen, all with one easy-to-use platform. Our clients require NO software. All that is needed is a laptop with built-in webcam or plug-in webcam; any speed broadband internet connection; computer speakers and/or telephone; and internet browser, e.g. Chrome, Microsoft Edge. In addition, iPads, iPhones and Android Devices will work.

This service includes:
Attend depositions through a secure and stable link via desktop, laptop tablet or smartphone (either Apple iOS or Android operating systems)
Unlimited participant connections
Complete recording of deposition including all participants
24/7 support available to test and assist with remote solutions.

For all inquiries, contact remotedepos@accourtreporting.com

Atlantic City Court Reporting's staff will send our clients, court reporters and interpreters a link to participate, which they will click on to be brought right into the virtual deposition site. Each participant, including the court reporter, will be able to participate in separate locations. Our Managed IT Services are available full time to handle any training for our clients, as well as assist with any unanticipated complications.

For purposes of the record, we recommend that it would be best for the attorneys at the beginning of the deposition to make a statement that the deposition is being conducted remotely and that the witness is being sworn in remotely.

Please let us know how we can be of service to you and your firm as we all navigate this unprecedented situation.